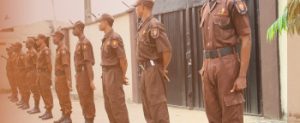 A Protection Plus operative believes that he is the best security officer in the industry, for he is meticulously selected, extensively trained, motivated and backed by years of experience. We offer this service in several categories:
Domestic (Residences)
Financial Institutions
Aviation Security
Cargo Security
Industrial/Commercial
Corporate
Reception/Concierge
Supervision
To maintain a culture of discipline, it is imperative to constantly monitor the Guards at their various beats. We have a team of seasoned Officers on Patrol duties to ensure that the operatives carry out specific post orders and keep to our company's rules and regulations. Where they observe any lapse, the erring operative is sometimes referred to the Academy for appropriate disciplinary action and retraining.
The Patrol Supervisors are also responsible for on-the-job-training of operatives to ensure optimum performance and productivity.
Inquire for more information