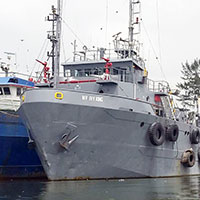 We take time out to gather exact intelligence and deploy quality response to protect client assets offshore or in-transit operations. Areas we provide services include:
Naval Escorts
Sweeps
Security vessels
Ship Security Officers
Anti-Piracy
Coastline Surveillance
Transits
Offshore/Onshore Security
Surveys of Port Facilities
Pipelines Security
Naval Escorts: Provision of Naval Security complements for security/ escort duties.
Field Security Vessels: Provision of a vessel for security use with navy, SSO and crew complement.
Ship Security Officers: Local Nigerian SSO to coordinate and security activities on a vessel etc.
Coastline Surveillance: Gathering Intelligence for the safe planning of a vessel or business operation.
Transits: Provision of Security officers to escort vessels from one point to another, one country to another.
Inquire for more information